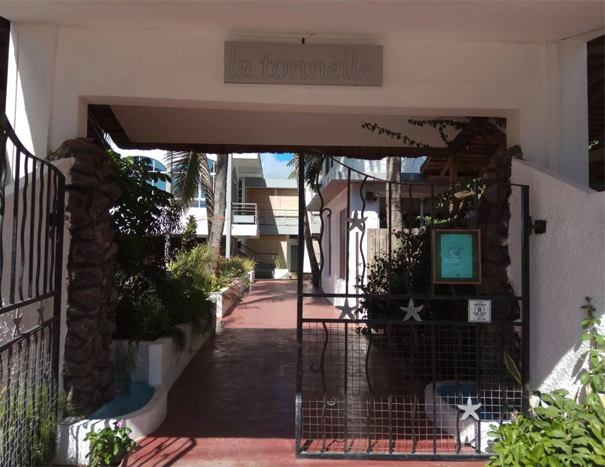 On this idyllic island of the Indian Ocean where both culture and tradition are unique and the welcome so particular, we open you the doors of La Tonnelle, ensuring a conducive family concept.
Front of the Trou aux Biches lagoon on the north west coast to the swimming pool, everything has been designed for unforgettable moments. The recently renovated Guest House offers a friendly and pleasant environment to visitors. Enjoy the Mauritian cuisine by meal sharing in a luxuriant tropical garden. Discover Mauritius differently.
Warmly decorated, equipped with bathrooms and toilets. Bathroom linen, beach towels are provided as well as flippers, mask and tuba for diving. All rooms are equipped with air conditioning and king size beds, television, wifi, safe and minibar

Verified
Merci Max et regis !!! ☺Ambiance familiale repas du soir très sympathique !! Regis et Max ont été formidable !! Malgré tout le stress lié au corona...merci encore !! Les bretons !! ☹Juste à revoir le ménage de la salle de bain

Verified
Excellent Trip. ☺ Breakfast was average. Location was brilliant. ☹ Bathroom wasnt clean to a good standard.

Verified
Coin sympa pour decouvrir ce secteur de l'île ☺La proximité du club de plongée. La plage et la proximité des restaurants
Verified
Excellent price/value ratio! ☺ Great price/value ratio, good location, prompt and clear communication with host via email, room looked as described, kind and helpful staff, shops and restaurants nearby, spa + bar + restaurant inhouse, few minutes walking to a very nice and long beach. ☹ Nothing to complain, I think for this price range one can't have an expectation for a 5star hotel...

Verified
bon emplacement pour découvrir l île MAURICE ☺petit déjeuner , emplacement , repas du soir excellent La disponibilité et la compétence du Gérant et du personnel

Verified
Sehr gemütliches Guest House ☺Die Unterkunft war nicht so riesig und daher alles sehr persönlich Das Frühstück war lecker und der Strand war nicht weit entfernt! ☹Das Zimmer war ziemlich klein, aber für ein paar Tage völlig ausreichend!
Verified
Très beau séjour, on a envie d'y revenir! ☺Très bon petit déjeuner, jus de fruits exotiques frais, fruits frais, œufs …., pris à l'ombre face à une jolie terrasse. Très bonne literie, chambre familiale très fonctionnelle.
Michael Hartley
13/06/2020
Verified
100% - Ignore the pathetic whingers Reception on arrival was good. Our room was spotless with the addition of free safe box, fridge, kettle, air con and complimentary toiletries. Breakfast was good with a wide variety on offer on a self serve basis. If you are looking for quiet evenings and early nights then be aware that they do have entertainment some evenings which can be noisy to around midnight. We did not attend these evenings and they did not interfere with our sleep (it may disturb you if you are a light sleeper or find it difficult to sleep if there is the slightest noise). YOU MUST READ THIS The real value of a hotel becomes most apparent during a crisis and you really find out how good the place is. We were there when Covid-19 came to the island and strict measures were put in place by the Mauritian government. The staff and the manager all had to return to there homes leaving my partner and myself the only people in the hotel as every other guest had left. (the manager could easily have said we had to leave but didn't) The manager made sure that a family of Mauritians who worked at the hotel and lived by made us a breakfast each morning and an evening meal (even though evening meal was not included in our package). They stayed around all day and evening up to around 11pm and he left a tab open at the bar so we could ask them for drinks whenever we wanted them. We were not allowed out of the hotel except to go to the supermarket just down the road so had to spend the days round the pool which was kept clean for us. When the British government advised all citizens to return to the UK we managed to secure an earlier than anticipated flight and the manager came back so we could settle the bill with him however Mauritian rules had banned all taxi's from the roads and our transfer refused to collect us . The hotel manager made phone call after phone call, arguing with the police and even suggesting driving us to the airport himself until he finally secured us a taxi at a very reasonable fare (he didn't need to do this as it was not his problem). I can not thank the hotel manager enough for the help he gave us and the family who kept us fed and provided clean towels and linen throughout our stay. Both went that extra mile and we will certainly return when the pandemic is over THANK YOU LA TONNELLE

Verified
Un super séjour que nous recommandons Nous sommes venus du 22 au 27 décembre 2019. Excellent séjour au calme avec dîner très convivial chaque soir. L équipe de l établissement est au top : accueillante, aux petits soins et professionnelle. Serviettes de toilette changées chaque jour, ménage fait. Les petits petits-déjeuners sont copieux les dîners sont super sympathiques en groupe, entre Réunionnais, Allemands, Italiens, Suisses ... Excellent séjour. Merci à Denis et Regis pour leur gentillesse et à bientôt. Signé : les Francois

Verified
Accueil irréprochable ! Séjour de 3 jours dans cette maison d'hôtes très agréable. Propreté irréprochables, repas délicieux, personnel aux petits soins et surtout Regis, qui se plie en 4 pour répondre à toutes vos attentes, avec gentillesse et humour . Bref on se sent comme à la maison et l'on passe un séjour fantastique. Au passage le club de plongée Dive Spirit situé dans l'enceinte de l'établissement est fantastique ! Merci à tous pour ce séjour !

Verified
Excellent séjour. Avons choisi cet établissement pour la convivialité du dîner. Très bien situé à quelques pas de la plage publique de trou aux biches et 200 m d'un grand supermarché. 500 m des bus. Avions choisi une chambre prévue de 25 m2 mais à notre arrivée, la chambre ne nous convenait pas. Le gérant a tout de suite trouvé une solution et nous a proposé une chambre familiale pour un supplément tout à fait raisonnable ( nous restions 8 nuits). La chambre était composée de 2 chambres , un grand dressing , une salle de bains. De ce fait, nous étions très à l'aise et plus sereins pour commencer notre séjour. Chambre simple mais équipement suffisant, clim, tv, bouilloire, mini frigo, séchoir, coffre-fort. Petit déjeuner avec œufs, pain, yaourts, fruits, confitures maison. Le dîner a lieu sur une table unique où tous les hôtes en demi pension se retrouvent à 20h pour partager entrée, plat et dessert unique. Animé par le gérant ( Regis, qui remplaçait le propriétaire, en voyage) C'est ultra convivial et permet aux hôtes de partager leurs journées, leurs bons plans... Regis anime la soirée avec bienveillance , gentillesse, service et humour. Nous avons même décidé de louer un mini bus tous ensemble pour aller passer 2 h sur un marché à 1h de là. Le restaurant de la maison ouvert uniquement le midi est également très bien pour un prix raisonnable. Le seul hic, le coin piscine dédié au club de plongée et jamais utilisé par les hôtes. Il n'est pas équipé de chaises longues et la piscine devrait être refaite. Dommage car malgré la plage toute proche, on aurait envie de lézarder près de la piscine. Je recommande cet établissement dans lequel je reviendrais avec plaisir.

Verified
Comme à la maison J'avais choisi cet "hôtel " car manger tous ensemble les soirs avec les autres clients me plaisait. Nous n'avons pas été déçus : nous échangions nos sorties du jour, nos avis, dans une bonne ambiance, sous l'œil de notre hôte Regis(qui remplaçait Denis) qui n'était pas le dernier pour nous faire rire. Les chambres étaient parfaites, beaucoup de rangements. La cuisine...un régal! Surtout la soupe de crabes. Il y a une petite plage juste en face, mais il y a la grande plage publique de Mont Choisy à quelques minutes de là, qui est superbe. L'hôtel a un petit restaurant qui nous a bien dépanné pour le midi, et pour l'apéro !! Bref, nous y reviendrons avec plaisir.
Cars in Mauritius are not equipped with GPS. We suggest you to download the free Android app Navigator MapFactor, which doesn't require an active internet connection